Reviews and recommendations are unbiased and products are independently selected. Postmedia may earn an affiliate commission from purchases made through links on this page.
Article content
John Hardy
Special to The Herald
Article content
Alberta is known around the world for its cattle. And while some rural entrepreneurs have dabbled in elk and even kangaroos, a new farm adventure is focused on alpacas.
Just over an hour's drive from Calgary, Kirks Alpaca Farm raises the mop-topped, puckered South American mammals – brown ones, white ones and black ones.
In the summer of 2019, Dennis and Josee Kirk chased their dream and took a chance. They renovated the barn, researched and learned how to breed alpacas, and how to care for and shear them. They secured a reliable hay source, especially important given Calgary's cold winters, and installed hundreds of metres of fencing on their rolling Three Hills property.
Article content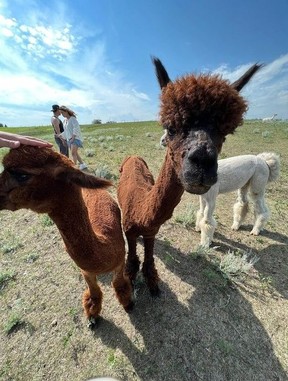 When everything was ready, they took the plunge and bought 38 alpacas. Pet quality alpacas can cost as little as $250 and up to $2,000 each. Breeding females and stud males can be in the thousands.
Four years after the Kirks got everything up and running, the farm is now open for visitors to walk, feed and mingle with the 100-odd alpacas which graze, frolic, and canoodle in the free-range pasture. They are friendly creatures, sometimes timid, but perfectly safe.
In addition to Josee Kirk's effusive and high-energy passion for all things alpaca, a subtle but significant feature of Kirks Alpaca Farm is the authenticity of the place. It's no petting zoo and there are no fenced-in enclosures. Selfies are OK but there are no head-hole plywood cutouts or staged backdrops with fake boulders, prop caves and gurgling waterfalls.
After all, it's the alpacas' pasture. You're just in it.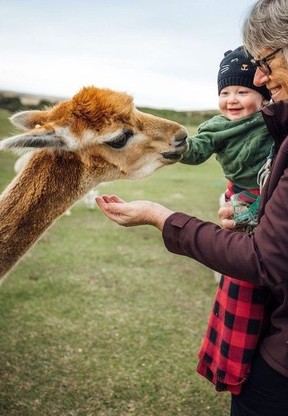 "Yes, they do look like humpless, miniature camels," Kirk says with a laugh. "Same snout and nose. Similar toe hooves. But different. Alpacas are one of the most domesticated members of the camel [camelid] family, which also includes llamas."
Article content
At a glance, they are similar but, at three to four feet tall, alpacas are smaller than llamas.
"It's fine to just walk among them, although sudden movements can spook them a bit," she cautions. "They are used to people and they don't bite. Help yourself to packets of feed, but carefully extend it to them in an open palm, not with fingers. Be sure to keep the packets in your pocket. They have excellent eyesight, they will see the treats and come to you, harmlessly nudging.
"And watch out for the gopher holes! They're everywhere."
That's an understatement. Tiny and twitchy gophers constantly pop out of the ground, like real-life Whac-A-Moles. The alpacas neither notice nor care.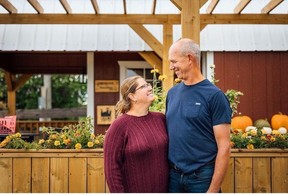 Alpacas hail from high elevations in Peru, Bolivia, Ecuador and Chile and are bred specifically for their fibre. Their wool is used in knitting and weaving.
"The soft, shaggy fur takes about 12 months to grow six inches," Kirk explains. "And they get shorn only once a year. Alpaca skin does not have lanolin, so the fleece doesn't come off as easily as sheep's wool. But it is quite the process. It takes three professionals to secure the alpaca's legs and head, and they can shear about 14 alpacas in one hour."
Article content
Word-of-mouth has transformed Kirks Alpaca Farm from offbeat and out-of-the-way to a popular, sought-after, day-in-the-country adventure. There is also a playground, swings, slides and a small, folksy farm store with alpaca socks, alpaca hats, alpaca scarves, alpaca gloves and stuffies made from real alpaca fibre. In fact, the farm has gotten so popular that the Kirks had to implement an online booking process. "It is important to help us control the traffic flow, not only for our animals and neighbours but to avoid our visitors feeling hectic and uncomfortable," Kirk adds.
"And to make sure everyone has a relaxing and enjoyable experience in the pasture with the alpacas."