'I feel less scared about being sick or dying. It gets a little easier once you get really close to it'
Article content
Less than two years ago, singer-songwriter Rae Spoon began the process of applying for medical assistance in dying.
The Calgary-born non-binary artist was in serious pain. Diagnosed with cervical cancer in March 2020 just as the pandemic took hold, Spoon had already endured external radiation treatment for eight weeks. They had endured four internal radiation sessions and five weekly doses of chemotherapy. After the treatment, there were complications that led to a 10-hour surgery. They spent more than a year in hospital in Victoria, B.C. and had three stays in the intensive care unit. Medical assistance in dying, or MAID, seemed like a viable option at the time.
Article content
"I had all the papers together," says Spoon, who uses the pronoun 'they', in an interview with Postmedia. "I thought I was going to go."
Obviously, they never signed the papers. On the day of this interview, Spoon is in the midst of a cross-country tour behind their most recent album, Not Dead Yet.
Spoon's cancer has been gone since October 2020, but they still deal with ongoing complications from treatment and will likely undergo more surgery this winter. For now, they are only playing outdoor shows, not only due to concerns about their own health in the wake of the COVID-19 pandemic but also to offer a safe space for fellow immunocompromised people.
Still, Spoon doesn't see starting the MAID process as a dark period in their life. In fact, it was a turning point.
"I feel less scared about being sick or dying," they said. "It gets a little easier once you get really close to it."
Article content
'I'm not really scared of dying at all'
Spoon, who has been recording and touring the country for more than 20 years, showcased an interest in death early in their career, albeit initially a more darkly comic one. Album titles included 2003's Throw Some Dirt on Me and 2006's White Hearse Comes Rolling, which both featured a distinctly country sound with a rockabilly kick. Spoon, who identified as a trans male at the time, became known for raucous live shows and for criss-crossing the country on a Greyhound bus. But Not Dead Yet — the title is reportedly a common saying in the cancer community — owes more to the latter part of Spoon's career.
Starting in 2008 with the record Superioryouareinferior, they altered their sound to incorporate electronica and pop sounds and began releasing more personal albums that drew from an often troubled upbringing in Calgary and struggles with mental health. Spoon sang songs about bigotry, self-loathing and the search for belonging and community. In 2012, Spoon began using the pronoun they. The self-reflection seemed to culminate with 2013's poppy but often haunting album My Prairie Home. Technically, it was a soundtrack to filmmaker Chelsea McMullan's National Film Board of Canada documentary of the same name that chronicled Spoon's upbringing and career. But the songs were all deeply personal, with Spoon revealing more details about being raised in a queer-unfriendly, Pentecostal household filled with mental illness and religious furor.
Article content
Not Dead Yet, which came out in mid-August, may be Spoon's most directly autobiographical album since My Prairie Home. In eight catchy pop songs, Spoon writes about facing their own mortality and the horror of being plunged into a health-care system that often seemed ill-prepared to treat gender-variant patients with sensitivity. This was especially true for a non-binary patient struggling with what the system labels "women's cancer."
Article content
While this all sounds grim, Not Dead Yet is anything but. Not only does Spoon showcase their considerable skills in writing endearingly infectious pop melodies, they also present songs of defiance and anger that still manage to celebrate the joy of being alive after staring down death.
"I've learned that I'm not really scared of dying at all," Spoon says. "I am less fearful and more joyful and I don't think about the long term as much."
Rae Spoon chronicles trans musician's coming-of-age with autobiographical YA novel, Green Glass Ghosts

Calgary native Rae Spoon releases career-spanning box set, sheet music

How non-binary singer-songwriter Rae Spoon faced cancer and quietly fought the system
On the beautiful opening track ICU, Spoon alternates between accepting death and fighting it. Alone in the hospital, they were at peace with ending their life. But they changed their mind when loved ones would visit. In the quiet opening verse, Spoon sings, "It's easier to hold when I'm alone. I pack my bones and sing them home," before launching into the soaring chorus: "Then I see you and I turn back into an animal. I'd do anything to stay. I'd fight and I scratch and claw."
Article content
"I wanted to put that in a song, that dichotomy," Spoon says. "You can hold those two things at once. You can be panicky and you can also be OK."
On Shake Shake Shake, Spoon directly addresses the caregivers who would unapologetically misgender them, something that Spoon says nearly broke them psychologically and would have them shaking uncontrollably. Yet, they wrap it in one of the album's most catchy, endearing choruses that sounds downright celebratory. Not Dead Yet finds Spoon exploring subgenres such as hyperpop and toying with voice modulation, but they also returned to one of their earliest influences.
"I grew up with gospel music," Spoon says. "There was something in gospel music where there was always this sadness and a rejoicing. I don't have to be part of a religion to retain that knowledge about music."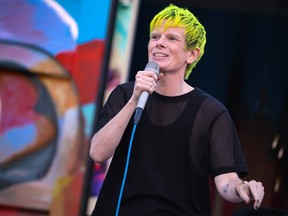 Spoon took up new activism path in health-care system
But Spoon's experience in British Columbia's health-care system was eyeopening and set them on a new path of activism. The singer-songwriter had spent a lifetime avoiding health-care systems because of how they were treated as a trans/non-binary person who suffered from complex post-traumatic stress disorder from their childhood experiences in an abusive home. But after being diagnosed with cervical cancer on March 17 just as the world was heading into the pandemic, Spoon spent the next few years in and out of hospitals. They were busy cancelling a European tour when the doctor called with the news. The day after the diagnosis, Spoon rushed to change the sex on their provincial health ID and driver's licence to an X before they were treated for a cancer associated with a gender they were not.
Article content
In less than a month, Spoon was penning essays on medium.com, an open platform for writers. Spoon wrote about the lack of training within the B.C. cancer centre to accommodate gender-variant patients. They wrote about having their pronouns mocked within earshot while waiting for a PET scan. At one point, Spoon and their non-binary partner were welcomed to the centre with a booming "Hello girls!" Online trolls were quick to respond. Some simply told Spoon to avoid the topics of gender identity and pronouns with health-care providers. Others said they hoped the cancer killed them.
But Spoon continued to fight, albeit politely and quietly. They repeatedly corrected health-care providers on pronouns. In May 2020, they attended an online meeting with Trans Care BC and the B.C. Cancer Centre to explore finding non-gendered terms for the cancers that were listed under Men's and Women's Cancers.
The law was on their side. In 2017, Bill C-16 amended the Canadian Human Rights Act to protect the rights of transgender or gender-diverse Canadians by including them under human rights and hate-crime laws.
Article content
Non-binary patients often have to self-advocate within health-care system: expert
Celeste Pang, an assistant professor of Women's and Gender Studies at Mount Royal University who spent three years as a community researcher for Egale Canada, says while the act was amended, "I don't think our society or our health-care systems have caught up."
Pang's main focus of research is on issues surrounding 2SLGBTQIA+ (Two-Spirit, Lesbian, Gay, Bisexual, Transgender, Queer, Questioning, Intersex, Androgynous and Asexual) health-care access in Canada.
Like Spoon, many non-binary patients often have to engage in this sort of self-advocacy in the health-care system, Pang says. It can be particularly frustrating and exhausting when patients feel the need to constantly educate caregivers about pronouns or identity during appointments. Research very clearly shows that past experiences and fear of discrimination can cause people to avoid seeking the care they need.
"To be clear, we are in a time of increased hatred and violence against 2SLGBTQIA+ communities and the health-care system and care providers are not immune from holding those ideas or being influenced by those ideas or operating within systems that may still be based on cis-heterosexist and binary ideas," Pang says. "So when it comes to an individual seeking care, something like having one's pronoun respected is a basic human right. It communicates something about who you are to the world and to receive pushback is basically an extremely disrespectful denial and erasure of who you are.
Article content
"When we think about medical-care encounters, it's a very physically and emotionally vulnerable position to be in. Often people are encountering real life-and-death questions and changes in their lives that come along with an illness or chronic health issue, so to be put in a position of having to defend something basic about who they are can only do more harm."
Spoon, who has written two semi-autobiographical novels, says they are planning to write a book about their experiences in the health-care system. They have found allies and noticed some change, although Spoon recognizes that systematic change comes slowly.
"I was looking for stories about people — especially trans, non-binary people — and queer cancer stories," they say. "A lot of people are working hard but there wasn't that much stuff. That made me want to write about it. I feel it might make it a little bit easier for the next person."
Not Dead Yet is now available.